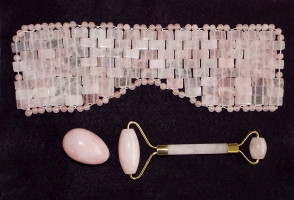 Rose quartz facial masks are helpful for facial health and wellness. Rose quartz is related to the Water element, and the Heart Chakra. The energy is related to Love, Gentleness, Emotional Healing, Stress and Spirituality, Unity with the Divine, according to culture and alternative health (reference "Book of Stones).
Also rose quartz roller for face, body and egg for holding, meditation or kegel exercise.
More information and ordering information available on Ying Yu Jade here
.