Calm Spirit health and wellness resources for managing your health of body, mind and spirit.

Your mind is powerful. Cognitive behavioral practice can help you manage your emotions, physical symptoms, spiritual well being.
Meditation changes your brain. You can start small, and work you way to a formal meditation session.
Reiki, Taiji, Qigong, Yoga not only improve your body health, but also improve your mind and spirit.
We hope Calm Spirit resources help you live a healthier, happier, more satisfying life.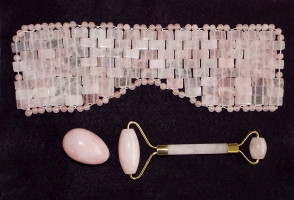 Rose quartz facial masks are helpful for facial health and wellness.  Rose quartz is related to the Water element, and the Heart Chakra. The energy is related to Love, Gentleness, Emotional Healing, Stress and Spirituality, Unity with the Divine, according to culture and alternative health (reference "Book of Stones").

Ying Yu Jade added a few rose quartz rollers for facial and body health and wellness because rose quartz also has good qi energy, energy for the Heart Chakra.
Size is 7.75" long, the large roller is 1.7" long, and small roller .85" long.  These are hand made, each is slightly different. They are highly polished, icy cold to the touch, and very well made.

Rose quartz egg, size is 18" long, 12" around widest end. Rose quartz eggs are often used for meditation, health and healing, and "yoni" kegel exercise for women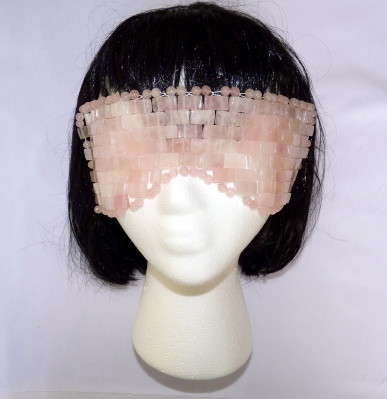 Rose quartz facial mask for facial health and wellness. Size is 11' long, 4" wide, 5/16" thick. Small quartz beads all around to make more comfortable and easy to move. Each piece is strung together so it is very flexible and comfortable when placed on your face, eye area. The rose quartz stones are very highly polished so it is not only beautiful, but easy to clean (alcohol wipe suggested).
The actual item is more pretty than the photo shows because photos can't capture the "glow" of the gorgeous quartz.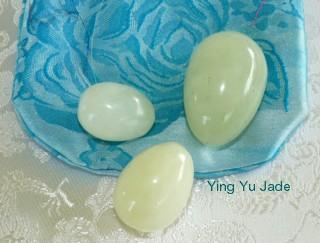 Jade eggs and ben wa balls are designed for women who want an alternative for kegel exercise and to improve vaginal strength and lubrication.

A Chinese doctor and I designed these to be the best size for women. He says that using the eggs is "vaginal kung fu" because it strengthens and tones and gives that part of the body more power and feeling of well being. Doing kegal exercises is easier when you have an object for feedback about what you're doing. Most people who do kegals aren't doing them with enough effort, and these can help. And jade is related to the body qi, energy. Jade energy is healing to the body, and jade qi and body qi work together. That's one of the reasons Chinese people love jade. It's natural stone, smooth, and is compatible with the body. Available drilled with hole or undrilled.
Ying Yu Jade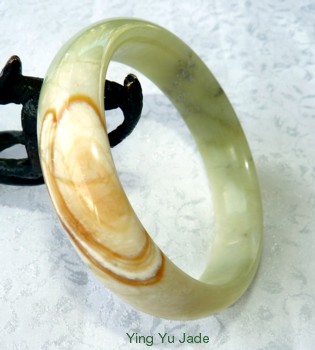 The Gift of Jade: And a Jade Gift Guide for You
Jade has a long history in China, and the history is part of the tradition of wear jade for health and healing. Jade has qi energy that balances the meridians of the body. And the color of jade is related to the meridans, for example white jade color is related to the lung meridian to help balance breathing, where imbalance can be the cause of asthma, coughing, and the emotions of grief and sadness. The Chinese "river jade" bangle bracelet to the left is an excellent example of genuine natural jade for the lung meridian and the spleen meridian (yellow or honey color) and green for the liver meridian.
The Chinese have used jade for health tools, like jade rollers, jade "needles" for acupressure, jade pillows for resting and sleeping to balance the head and brain. Jade gua sha tools are used to scrape parts of the body near a point that may be causing a health problem and raise the "sha" or blood, to help release the stuck qi. After the Cultural Revolution in China, the Barefoot Doctors often went to the jade carvers to beg for scraps of jade to be polished and smoothed to use a gua sha tools because they manage their entire healing practice by performing gua sha treatment on people.
Today some of the most popular jade health tools are the jade rollers and gua sha tools, and jade eggs and benwa balls for women to use with kegel exercise.
And today jade is most jewelry, with jade bangle bracelets being very popular throughout China and Asia, and throughout the world. Jade pendants, jade necklaces and bracelets. If you are a jade lover, you probably think about sharing your love for jade and its healing powers with family and special friends. With the holidays near, we have developed a Jade Gift Guide on our Ying Yu Jade web site to help you choose gifts for family, children, men, women and people who practice wellness either professionally or personally.
Check the
"Deal of the Day"
for jade that's on sale daily. There are often coupons available, too. You can also sign up to be on the mailing list for specials sales, discounts and coupons.
Featuring Traditional Chinese Jade for Wellness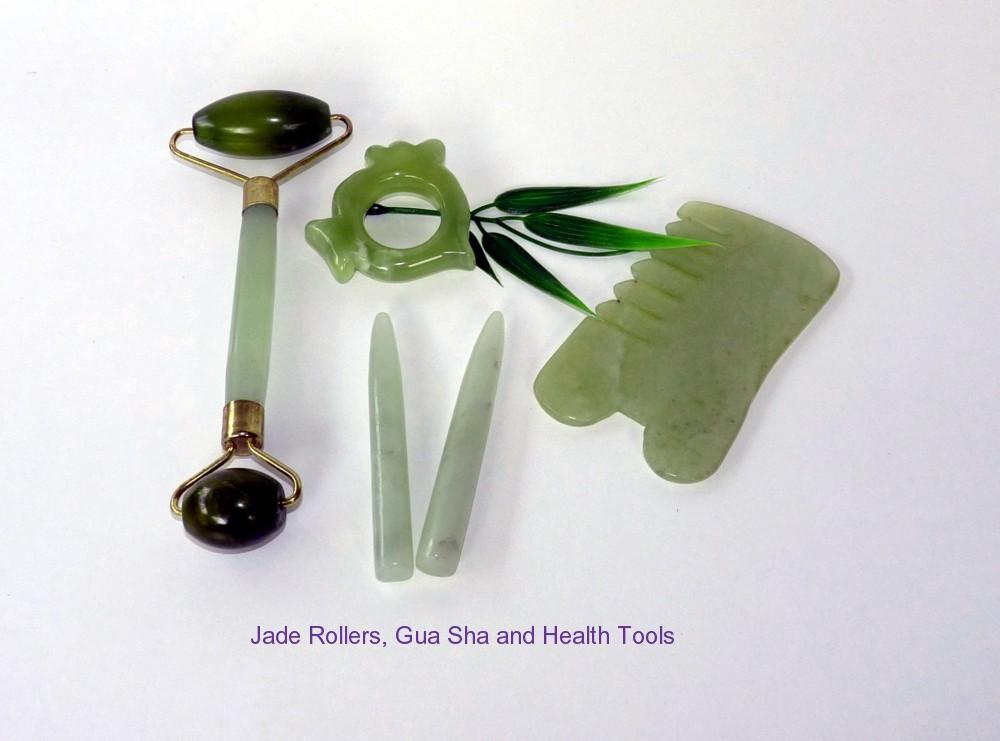 Ying Yu Jade gua sha stone massage tools, classic Ying Yu Jade rollers, including "Frownease Wrinkle Reducer Kits",
jade "needles" for acupuncture points, jade massage rings for yourself or professional healing work. All our jade health tools are made in Ying Yu Jade carver workshop in China. We purchase the jade directly from the jade mine, and our jade carver makes the tools in the traditional way, with the quality that international customers expect.
Available on the Ying Yu Jade web site
.