My first trip to China was in 1999 to learn Qi Healing and Chinese Medicine with my qigong group. The Qi Healing and Chinese medicine treatments were so helpful for me personally, I returned to learn more. On my second trip, I arranged for a Chinese doctor to give me treatment for jet lag so I would feel better and enjoy my time in Beijing more. The treatment was scraping with a
jade gua sha tool
and acupuncture. I was amazed at the use of jade for balancing qi energy and that using these jade health tools was used by Chinese people for their every day health care and wellness routines. I took a selection of the jade tools including jade rollers, jade gua sha tools, jade
"needles" for working acupoints. The doctor and I arranged to meet a jade supplier in Dandong on my third trip. The jade supplier
took us to Xiuyan "jade country". We visited the jade mines, met the jade carvers and their families, and I placed my first order for
jade rollers, jade gua sha tools, and then for jade eggs and jade ben wa balls for women. These jade health tools are not the standard jade tools available in jade markets. They are high quality, genuine and natural Chinese jade, the kind of jade that has been used in China and Asia for centuries. They are hand made by my selected jade carver and his family, and shipped to me in USA for my Ying Yu Jade
web site. You can view the collection, read more about jade and how these tools are used, and purchase on
Ying Yu Jade
.
The blog will open in a new link, so be sure to bookmark Calm Spirit for easy return.
Jade Qi Energy - What Does Jade Color Mean

Green jade has energy for healing mind and body, calmness and balance and love. Light green is more
yin qi, and darker green is more yang energy. Green jade is related to the liver meridian, and the wood
element. Strengths are clear vision, goals and decision making. Anger is a sign the liver / gallbladder
meridian has imbalance.
White jade has the pure energy of the universe, and helps us develop deep wisdom from within, and
calms our spirit. The lung meridian, also the large intestines are metal element. Strengths are
organization, structure, inner strength. Grief is an emotion that indicates imbalance.
Lavender jade is often reserved for older women in Chinese culture, and has energy for inner peace, spiritual awareness and is often used for meditation and balance, and is a teacher of all things. It's
most related to the kidney meridian, see "black jade" below.
"Hong" jade, red/orange color, has energy for protection and safety, success, confidence, courage and happiness. Related to the heart meridian, balance indicates socializing, talking, being charismatic.
Anxiety, restlessness, and insomnia indicate imbalance. Element is fire.
Yellow jade qi augments happiness, prosperity, spiritual growth and satisfaction in life. Yellow is
related to the speen / stomach meridian and earth element. Worry, anxiety indicate imbalance.
Overeating is also imbalance of the speen meridian. Honey or yellow jade helps balance.
Black jade is very yang, and the carvers try to make each piece with only a small amount of black. Black jade is used by martial artists, those who play tai chi and qigong, to build up the body qi. Black is
related to the kidney meridian, and water element.Fear, menopause are imbalance of the kidney
meridian. Black jade is protective, good to wear when traveling.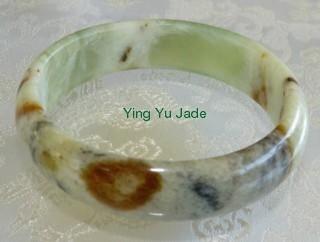 Chinese "river jade" is natural color jade. The colors are made by the minerals in the water where the jade is mined.
If you wear jade as "medicine", you can find a jade bangle with the natural colors to balance your qi meridians.
This "river jade" bangle bracelet has classic green jade for the liver meridian, and is the general healing color.
The charcoal or black veins are related to the kidney meridian.
The brown or honey color veins are related to the spleen meridian for the yellow hues, and the heart meridian because of the red hues of the brown color.

This jade bangle also includes some white color, related to the lung meridian.
You can wear your jade for health and wellness, or if you don't like to wear jade bangle bracelets, jade pendants are available. And if you don't like to wear any jade, you can sleep with it to experience the qi healing of the jade.
You can find jade bangle bracelets, jade pendants, and jade carvings made from this natural color Chinese river jade on the
Ying Yu Jade web site.